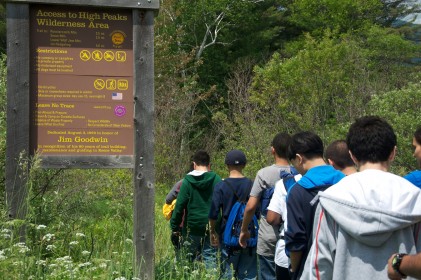 The Julian Reiss Foundation provides the facilities and program grants that make summer leadership programs possible for hundreds of deserving inner-city children.
The Foundation operates two separate camp facilities on the property in Lake Placid, Camp Monserrate and Camp Holy Child, that share a common swimming pool, ball fields, chapel, and access to canoes on the lake. Each facility has a common dining and recreational area surrounded by sleeping cabins, campfire pits, and basketball courts.
The Foundation partners with middle schools in New York City for the camp programs that play a critical role in their year-long program:  The Connelly Center for girls on the Lower East Side of Manhattan, and St. Ignatius School for both boys and girls in the Bronx.
The camp programs are especially effective because they are part of a twelve-month program for these middle-school students (grades 6-8); in most cases all the students in each school attend its camp program. Each camp conducts an educational program focused on the development of competencies in reading, writing and mathematics, which will serve the campers well in the years ahead.
The classes are coupled with sports and camp activities, which are also treated as important learning opportunities. A number of the graduates serve as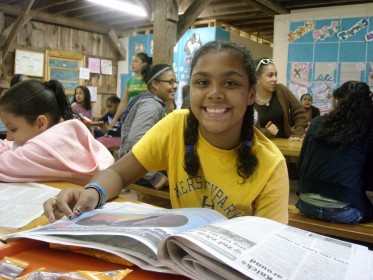 junior counselors and later as counselors, providing valuable role models for the campers.
In all camp activities, and especially in discussion sessions and personal counseling, the emphasis is on the development of moral character, personal life goals and relationships with others. The camps seek to instill those personal and spiritual attitudes and traits which will give the campers the strength of character that will enable them to succeed as persons, as productive citizens and as leaders in their communities, despite the challenges and influences of their inner-city environment. Key to success is the dedicated staff that works intensely with individual campers and in small groups, giving a great deal of themselves to this important effort.

Yes You Can!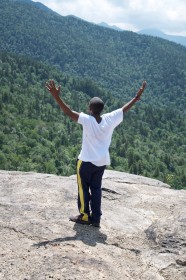 A theme of the programs is, "Yes you can!" Most of the campers arrive not knowing how to swim and convinced that they could never learn. At the end of the summer, many leave as swimmers.
The same theme is applied to reading comprehension, math, and especially to personal goals for education, career and one's personal life. The lesson is that with hard work, self-discipline and the grace of God, each camper can achieve much more than he or she had ever thought possible.
Through the years most of the campers have responded well to the program and are now fulfilling its goals. It is heart-warming to have graduates return to camp years later to show their own children where they got started on a path to success.